They call it "Florida, the Sunshine State."
Uh, not so much this weekend.
We had major, stormy weather all weekend.
I mean, the kind of storm that causes
power outages, trees falling on roofs, roads flooding, and rivers swelling.
Needless to say it was a stay indoors at all cost weekend.
What to do to keep everyone happy?
What to do to keep everyone entertained BESIDES video games all day?
What to do so we don't hear "I'm Bored" all day?
I'll tell you what, we had us a
"Purple People Eater Day"
!
We used
this recipe
to make
"Purple People Eater Cake Balls".
I know, they are kinda scary looking ... but they ARE supposed to be monsters after all!
The recipe called for white chocolate coating but I tinted it purple to fit the theme.
Note to others, Wilton food color gel will affect the texture of your chocolate!
What a pain it was to get it runny again :)
For the eye we added a orange mint lifesaver and then used a candy corn for the horn.
We used my silhouette to cut out the wings/feet.
We also did, at the ole hubby's request, a
"Jello Eating Contest".
I used my football helmet jello mold to make tons of purple jello.
I figured it's football season and hey, it's jello.
Who cares what shape it's in, right??
And who do you think won?
Why ME of course! Can I get a woot woot!


Let me clarify - the only reason I won is because,
unbeknownst to me, my family HATES grape jello :)
Go figure!
Once everyone's tummy felt better from the grape jello, tee hee :)
we made
"Purple People Eater Magnets".
My original idea was to use my silhouette to cut out shapes
and let everyone glue them all together and have them all perfect looking.
However, I decided OCD me needed a break.
I threw perfection to the wind and we still actually had fun :)
I laid out purple paper, scissors, glue, tape,
wiggly eyes, pipe cleaners, and magnets.
I said, "Go at it!"
And we did!
Now they will grace my fridge during
this spooktacular time of year :)
For me the funniest part of the day, and the one with the most laughs,
was our
"Purple People Eater Dance Off"
.
Can I just use the word HILARIOUS!
I found the original song by Sheb Wooley on youtube,
started that baby up,
and we danced around the house like maniacs.

It wasn't a perfect day ...
my chocolate didn't turn out right,
the family hated the grape jello,
and we learned mommy can't dance like a Purple People Eater :)

But I did learn that even though things don't go perfect they can still be fun!
Memories were made inspite of imperfection!!

Just because I can ... and just because you might need a smile today,
Here's the original Purple People Eater song.



Be sure to check out these "spooktacular" Halloween Parties: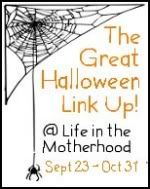 I Will be Linking Up to All or Some of these Fun Parties This Week: